The Big Tourney: 2019 NCAA Online Bracket Pool Manager Software



The Madness Happens HERE!

Online March Madness Bracket Manager For NCAA Tournament




SETUP YOURS NOW




We Do One Thing... And We Do It Extremely Well!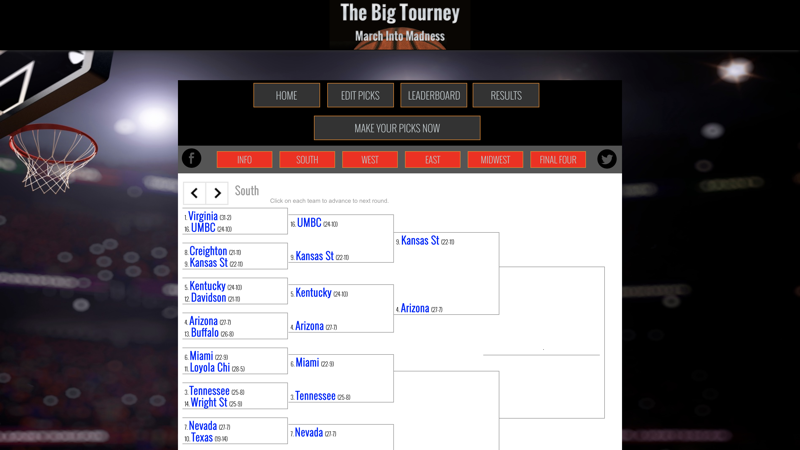 With THE BIG TOURNEY you get an award-winning bracket manager pool software that will run your march madness bracket pool with automated/live updates and a lot of happy customers.
You WON'T GET annoying ad banners or constant spam. Your privacy is important to us. We dont sell or use any of your entrant info.
Plain and Simple:
$18.95 for up to 300 entrants!
Thats it! No other costs.
LEARN MORE
What Can You Expect:


Clean Looking Site
Out of the box you get a clean looking site with all the bells and whistles and none of the headaches or ad banners to distract you or your entrants. With our easy setup, you can be up and running in just a minute or two. Start collecting bracket entries right away!




Customize It
Use your images and text and make the site your own. We allow you to customize much of the way the site looks. There is no extra cost, just a little more of your time to get it just the way you want.




Commercialize It
If you represent a business or organization, sports contests are great to promote good Brand PR and Corporate Team Building. With our Commercial/White Label Version, we brand the software like it was yours and make it seamless to your site, and best of all, we harvest and you keep all the data. Use our experience to create a successful promotion that will drive customers to you.



INDIVIDUAL VERSION

COMMERCIAL VERSION
How About A Features List Second to None:
BREAK INTO SOME BRACKETS AND TEST RUN

Features Include:
- Point/Click Bracket Entry
- Sizes itself to work great on all devices: phones, tablets and computers
- Automated Results Calculation
- Versatile Scoring Options
- Live Games ticker
- Email Round by Round or Daily Updates
- Brand the site to your organization/business (Commercial)
- Customize Banners/Text (Individual Only)
- No Banner Ads or Registrations (or SPAMMING emails)
- Printable Brackets/Entries
- Editable Picks
- Playin Games are counted as one entry in the 64, allowing a bigger window for tourney entry!
- Track Monies Paid (Individual Only)
- Only you collect data from your league entrants.
- Multiple Result Options:
- Region Report
- Round Report
- Underdog Report
- Teams Left Report
- NCAA Results
- Choice Compilations

- And introducing this year: A SWEET SIXTEEN contest included for FREE. Same rules as your full blown 64. But after the first weekend of play, your contest entrants can re-up their interest in the Sweet Sixteen Contest and enjoy another opportunity to win!
We Would Love To Hear From You
Feel free to contact us on social network or send us an email with any questions or comments you have.

GET IN TOUCH
The Big Tourney
3350 W Twain Ct
Phoenix, AZ 85086
thebigtourney@gmail.com