Manage your March Madness Bracket Pool Contest online with us.

---
Get in on the excitement of this year's NCAA Men's Basketball Tournament with Unparalled Features and Automated Results.

---
Basic Version Features ($18.95):
No annoying ads/spam or messy registrations - just enter name and make picks
Low, low price for up to 300 entries
Point/Click Bracket Entry for your march madness pool
Sizes to all devices: Phone, Tablet, PC
No forced site registrations, enter picks, name and info in one submission
Data is private, not sold and spammed liked other sites
No annoying ad banners, just a clean site with your content
Automated Results Calculation for your brackets
Live Games Ticker
Email results to your entrants
Playin Games in bracket of 64
(Entry acceptance until Thu)
FREE Sweet Sixteen Pool Contest
Printable Brackets/Entries
Track Monies Paid
Multiple Result Options (20+) Including:
• Region Report
• Round Report
• Underdog Report
• Teams Left Report
• NCAA Results
• Choice Simulations
Commercial Version Features ($239)


Everything Basic Version provides
Complete white-label experience with unlimited entries
Customize fonts, buttons, colors to embed on your site or link to ours.
Embed into your site or link to ours
Collect data from users - PRIVATE, for your use only.
Customize questions to get data you need.
You provide the prizes, we do all the work.
Easy download in exportable file
Email updates with results & your added promotion verbiage.
Add rotating ad banners
Supports thousands of entries
Sub-contests for regional locations
MORE INFO ON COMMERCIAL VERSION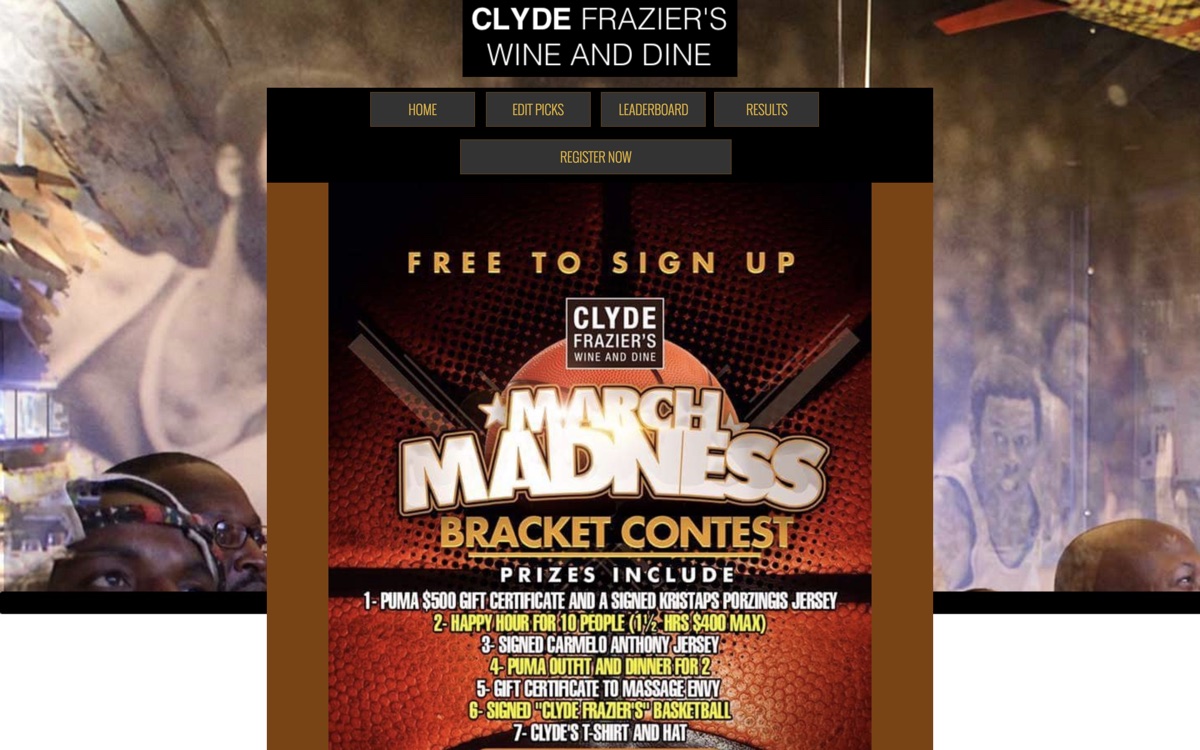 "Simply, the most complete and well thought out March Madness Bracket Manager. It has everything we could need in fulfilling our marketing goals." - Jim Testitory, Marketing Director
Each March Madness Site has a Splash
Just an example of the little details The Big Tourney sites provide: A generic splash screen for your march madness pool is provided on each site. Other March Madness sites don't care to have an intro page, leaving the entrant without contest information. Our intro page, when customized by the user, provides contest rules and prize information.

Commercial Version:We customize this screen for you or allow you to provide a graphic with exactly what you need to let your entrants know the rules. Further, everything on this screen from the background to the header can be customized to look like your website, making the contest site seamless with yours, thus providing the professionalism that you demand in rolling out a contest site.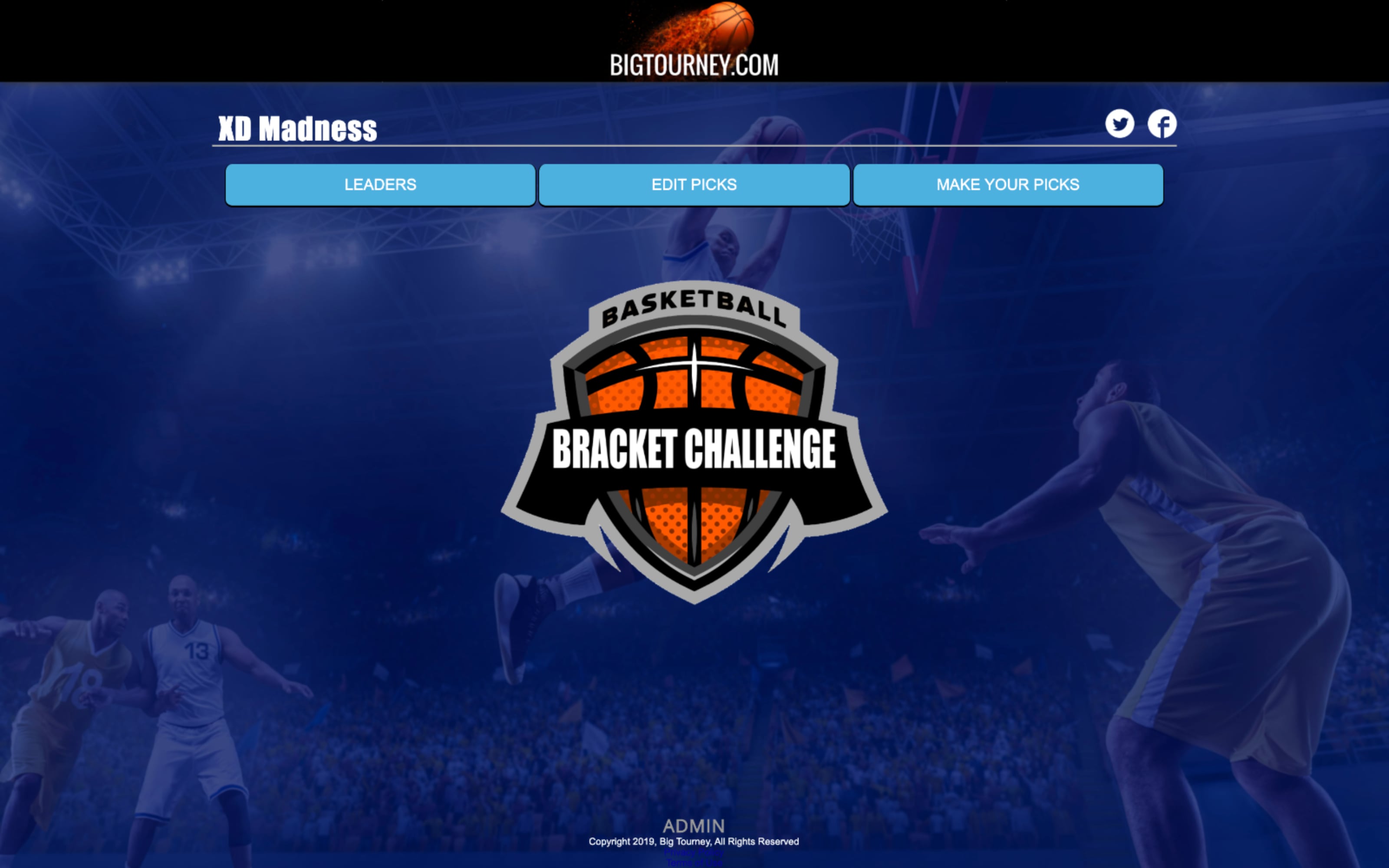 "Setup was super easy! Didn't have to change much, just uploaded a couple images and it was perfect!" - Jill Hennessey, UNC Fan
SETUP YOUR BRACKET POOL NOW
Our sites update within seconds of college basketball game finals. Know where you are in the standings right away. And lest we forget, we have over 20+ ways to look at your bracket results, giving you unbelievable analysis of your pool.

Commercial Version:Do you have regional contests? We can break down results by regional results as well as an overall leaderboard. We can customize so it fits exactly with the type of contest design you have.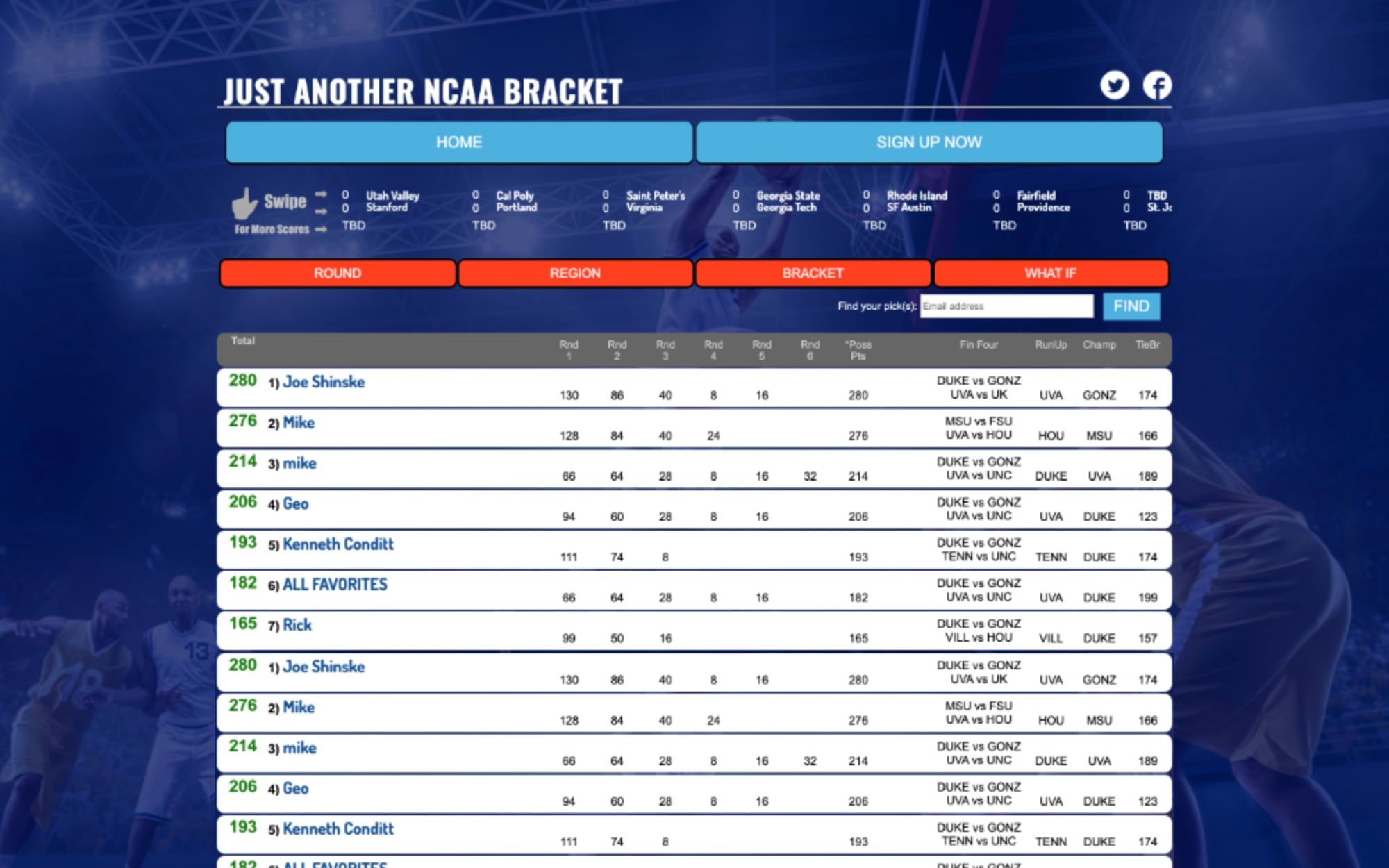 "Back for our 5th year! Just a clean and simple interface, with large fonts making it easy for us 'older folks' to read. Love it!" - Tom Gallegos, Fundraiser
SETUP YOUR BRACKET POOL NOW
Entrants have no central site login or registration for their ncaa brackets site. They simply are directed to YOUR march madness pool, unlike other office pool sites. Just click MAKE YOUR PICKS NOW button and are prompted to enter their basic info. Full name and email are the only required fields, the others are optional. And as stated, all your entry info is private. We wont sell it to anyone.

Commercial Version:What this means for commercial version is that we can easily do an 'embed' into your site without having to worry about login screens. Users come to your page (with our content 'iframed' inside) and play the game. Seamless...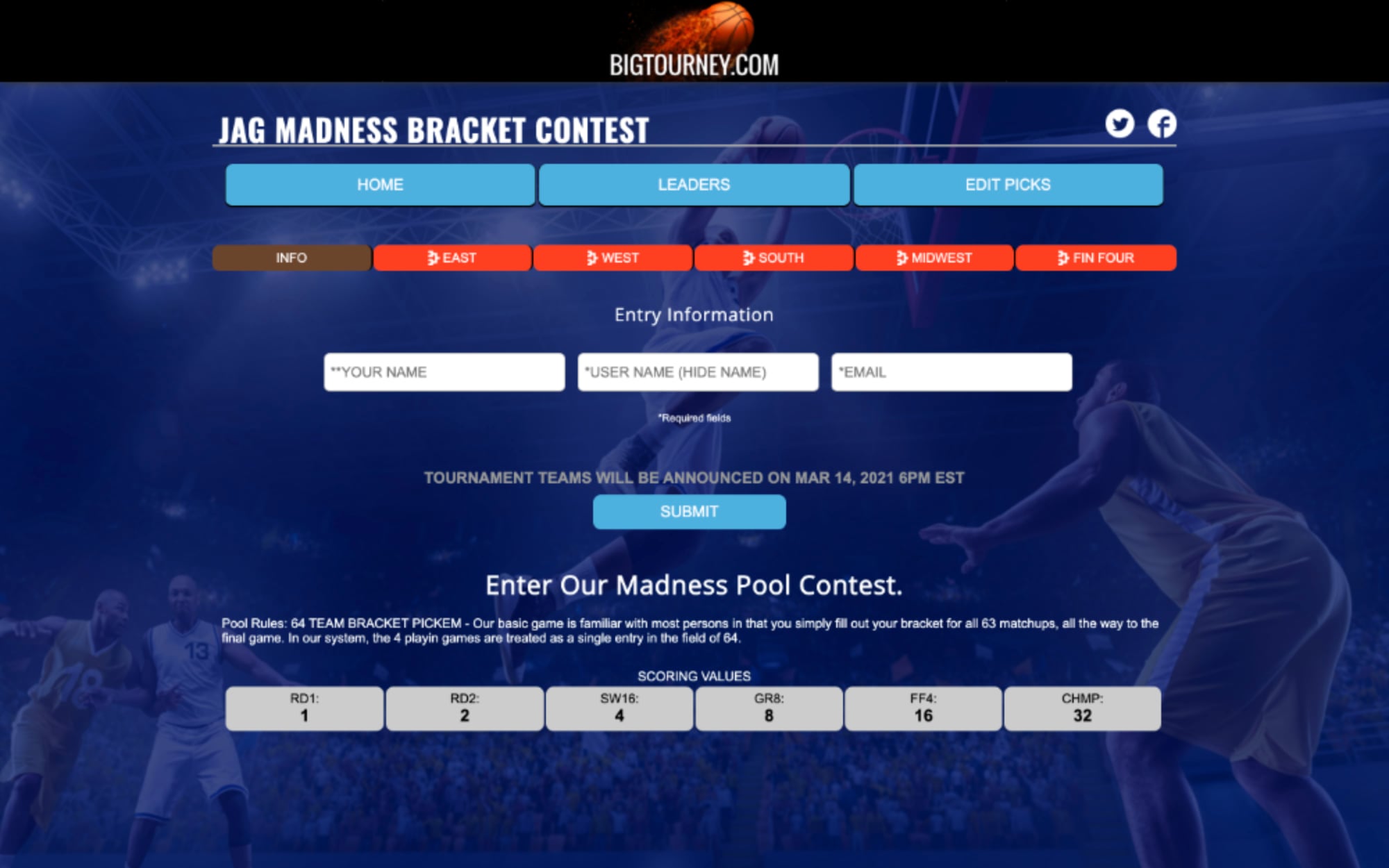 "Looking at other pay sites, $18.95 is a super bargain. Our little league Board is thrilled with how well this worked for us." - Jack Perkins, Director
SETUP YOUR BRACKET POOL NOW
Regions are entered one at a time, using larger fonts making it easier to see what you are doing. This also reduces the mistakes of not filling in the complete bracket (The site validates form before submission to ensure all picks are made). A confirmation email is sent to the entrant and administer of contest.

Commercial Version:We can customize the email confirmation being sent to the entrants with verbiage you my want to provide on products or just a thank you for donating (fundraisers). Also, We can brand each entry region with a trademark logo (upper right corner 100x100) to help promote different products you may be pushing. Great for acknowledgements in fundraisers for those that have helped.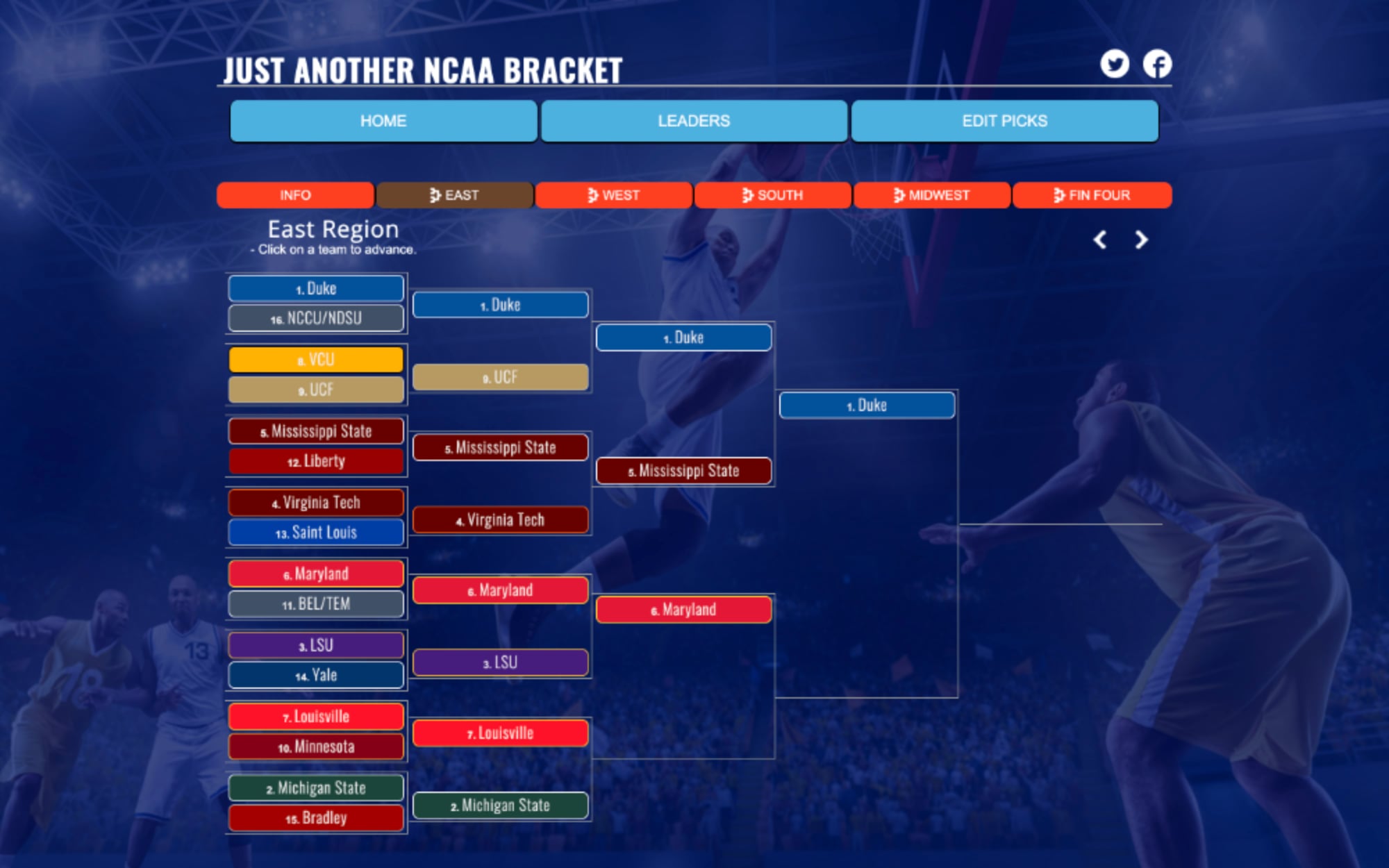 MORE INFO ON BASIC VERSION
SETUP YOUR BRACKET POOL NOW